By Cara Stone
Bachelor of Science (Environmental Studies) / Bachelor of Advanced Studies (Marketing)
It's late in the evening when we receive a knock at the door. Two women, posters bundled in their arms, stand in the doorway of our hostel room at Tata Institute of Social Sciences, Mumbai. They need to go into our restroom. After some time shuffling about, they thank us and leave. There, freshly laminated and demanding attention, is something I never expected to see taped to the door of an Indian bathroom. A flyer about menstrual cups.
Gradually mounting in popularity, menstrual cups offer an eco-conscious, reusable alternative to period hygiene products. They function much in the same way as a tampon but can be reused for ten years. The idea behind the cup is that alongside saving thousands of single use period products from contributing to the world's waste crisis, it reduces both long term costs and health risks. Cotton based cloth pads likewise offer an alternative to single-use sanitary pads but require a set of four to see you through the days of your cycle.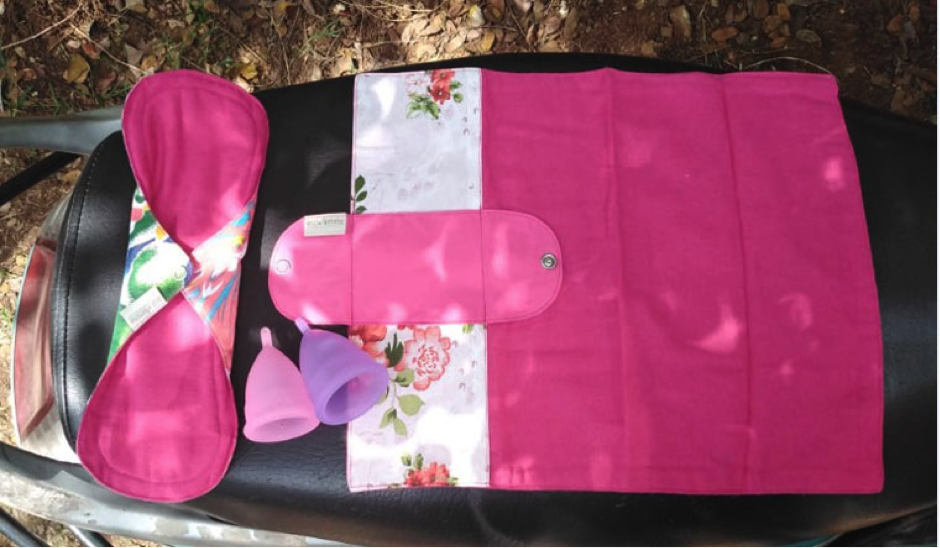 With 26% of the global population menstruating and experiencing 450 cycles in their lifetime, it's hard to fathom just how many menstrual products are thrown away. Especially so for Australians; these products are conveniently disposed of in one of many sanitary bins, collected, and forgotten. Within Muhamma, a locality near Vembanad Lake in Kerala, the sheer amount of waste is blatant. Of Muhamma's 8000 menstruating people,75% use synthetic sanitary pads, translating to 100,000 soiled pads a month. Lacking proper disposal facilities, soiled pads have one of five paths: be collected with regular waste, sent through the toilet, buried, burnt, or tossed in public spaces like lakes. Because pads are a cocktail of plastic and harmful chemicals, not only are there significant environmental ramifications, there are alarming health risks like reproductive harm, hormone disruption, and cancer. Such risk is exacerbated by wearing synthetic pads longer than the recommended 4-6 hours, unsanitary collection of pads by waste pickers, and the leaching of pads into water supplies.
With this in mind, why would people not transition to reusables? Ashoka Trust for Research in Ecology and the Environment (ATREE) is collaborating with Muhamma Panchayat to establish the first synthetic pad-free panchayat, touting the benefits of reusable products through seminars, workshops, and door-to-door campaigns. I've been a user of cloth pads for a year now; when transitioning, my mother grimaced, questioning how hygienic these would be. India has a different sanitary concern. Menstrual cups should be disinfected, but poor water quality means cups could be dirtier after 'cleaning'. Social stigma presents further barriers to Muhamma's goals. Just talking about menstruation is rare. Women are averse to menstrual cups, despite their cost-benefit and subsidies, largely due to fear surrounding their safety and virginity. Tampons are hardly used for similar reasons.
As we discussed this initiative with ATREE, it seemed that despite their success – 2500 women have jumped onboard – this change may be too fast. Synthetic pads have only just become widely used. Asking people to change yet again risks isolating those still uncomfortable with menstrual products. Women need to have a choice of disposable or reusable, rather than having that decision made for them if disposables eventually go off the market. Change is needed, but we must be careful of the way in which we generate it.