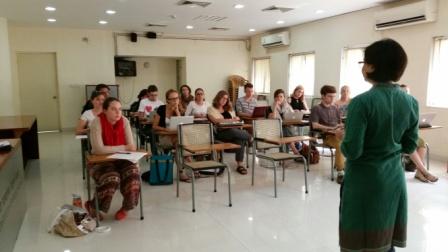 By Elen Welch
B Science (Geography & Environmental Studies) 2013-2015
A difficult night's sleep punctuated by howling street dogs and too-friendly mosquitoes was remedied by breakfast of a chilli spiced omelette and extra sugary coffee. I was ready to start my third day of study here at TISS, Mumbai. While I was initially overwhelmed, I think I am finally piecing together a cohesive understanding of what seems to be an incredibly complex history of government, economic and social dynamics. The theme of today was The Indian Economy and so the morning started with two lectures from local academics. Dr Rohit Mutatkar spoke about the extent of poverty and multi-dimensional inequality which, to the surprised of many of us, is actually increasing despite rapid national development.
I was surprised to learn that less than 30% of India's population live in regular housing – that is, a dwelling made of permanent materials with a roof, walls, floor, kitchen, toilet and electricity connection at a bare minimum. Driving through Mumbai there are plenty of slum settlements located along major roads. I am curious about the status of housing and slum communities in particular. From the comfort of our bus many homes appear makeshift, but perhaps they meet basic requirements? It is absolutely crazy to think that one of the biggest slums in Mumbai is located just a ten minute drive from the TISS campus where we enjoy comfortable accommodation. Most importantly we have infinite access to potable water!
It was shocking to learn today that most Indian girls only complete five years of schooling, rarely reaching secondary school. Unlike their brothers, they often leave school – not because they don't have the motivation to continue, but because they are not allowed to travel alone to their local high school which is typically located come distance from the family home. Learning from local academics, many of whom are originally from villages and do much of their research in rural India has been extremely engaging as they present the positive progress that is being made alongside the imperative for greater investment and policy attention.
We ended the day hearing about the recent dynamics of the Australia-India relationship from the Australian Deputy Consul General here in Mumbai. Australia is excited about recent developments in the bilateral relationship, but two things really stood out for me.
First, Indian students have long been traveling to Australia to pursue their tertiary studies – 35,000 enrolled in our universities last year. However only a few Australian students come to India to study. Our group of 15 make up part of only around 550 Australian students who visit India each year. And this small number is double the number of only a few years back! This is such a one-way movement. Yet there is so much energy, a vibrant culture and great tertiary institutions to experience here – not to mention the extremely warm reception by locals. Specialising in social sciences, I have found TISS a very modern and progressive environment where serious innovation is occurring. It is like a whole institute that teaches material directly related to my major!
Secondly, Punjabi – a regional Indian language – is actually the fastest growing language in Australia and similarly, Hinduism has emerged as the fastest growing religion in Australia. I think this is very exciting and shows the value of student exchanges that provide opportunities for students to become more involved in India and learn from others.
Continuing my studies – accompanied by regular chai and curry – over the next two weeks will not be difficult at all!