By Miranda Evans
Bachelor of Science, majoring in Geography and Neuroscience.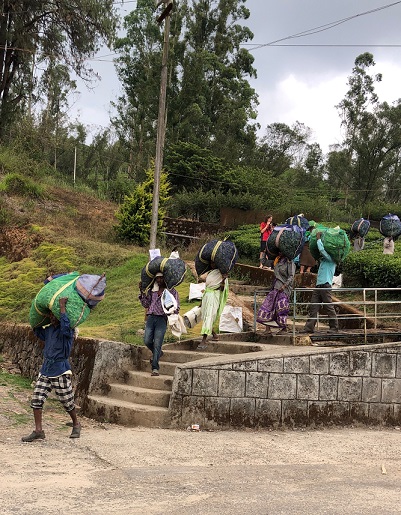 Photo: Tea pickers in Munnar
Every minute, 30 people are migrating from rural India to urban areas. There's no doubt India's major cities are facing incredible challenges to accommodate the influx. During our first week in Mumbai, this was our focus. But as we travelled south to the state of Kerala, we began to look at the migration story form the rural side of the equation. An estimated 10% of Keralans live outside the state. Migration has been beneficial for reducing the state's poverty rate and relative deprivation. But what does it mean for employment?
1,600 metres above sea level is the town of Munnar, surrounded by rolling hills filled with tea plantations. On a visit to the Munnar Tea Museum, we spoke with a group of women teapickers as they deposited their 25kg bags of tea leaves from their day's work. The women proudly told us their children have left Kerala to study commerce and medicine and other forms of higher education. Education provides an important pathway for social mobility.
Tea plantation workers are among the lowest paid workers in Kerala and at the bottom of the labour market. Their typical work day is 10 hours long, 6 days a week. Women work on the field, delicately plucking the new tea leaves. Men are employed in the factories as 'unskilled' labourers. The manager at our hotel told me he was from a family who traditionally worked in the tea plantations. But his parents didn't want him to follow them into this industry given the tough working conditions. As we were talking another hotel employee sat down next to me. He had spent seven years working in tea factories prior to seeking employment at the hotel. The hotel manager told me that once you enter the industry, you are locked in and it is hard to leave as you are dependent on your employer to supply drinking water, housing, food, education and healthcare. The hotel employee told me he wished he had moved to a city like most of his friends, as life was too dependent on local industries in Munnar. This made me wonder how tea plantations were finding employees if the locals were no longer interested in working in Munnar's leading industry.
The answer I found was migrant labour. Hopeful migrants from the northern and eastern Indian states have moved to Munnar and tea plantations across Kerala seeking safe and sustainable working conditions. Despite having no skills or previous experience in the sector, the shortage of local labour has forced plantation management to employ these people. Plantations strategically hire migrant families knowing they are reluctant to move away once settled into local communities. These families move to Kerala with hope for a prosperous new beginning in the lush hills of southern India. When faced with the harsh reality of the tea plantation industry, I wonder is the tea really greener on the other side?