By Katrina Conn
Bachelor of Education (Secondary: Science)/ Bachelor of Science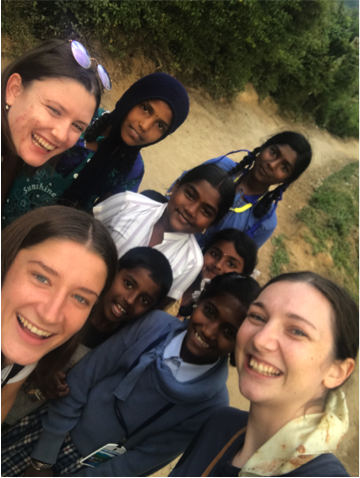 Women are the foundation of Indian society. They run their households, are the primary carers of their children and often work as well to support their family. This can often create a vicious cycles of gender-based disadvantage, as many girls drop out of school to take care of their younger siblings, so their mother can go back to work. Often girls also drop out when menstruation begins because of social stigma and insufficient facilities, which means being at school on your period can become very uncomfortable. Education plays an extremely significant role in shaping the future of individuals, allowing them greater opportunity for jobs in the formal sector with better wages to support their family. As education is such an important step towards eliminating global inequality, limited education means that women suffer disproportionately from these inequalities. As someone studying to become a secondary teacher, I am extremely passionate about this issue.
Yesterday, we went to a village where the women worked their lives away plucking tea leaves. They are trapped and exploited in this field of work, as this is their only skill after having dropped out of school early. There is hope though with the creation of the women's empowerment union to fight for the rights of women and for fair wages. The thing that made me smile the most yesterday was seeing the young girls in their school uniforms, still dreaming so big and studying so hard. The most inspiring of them all was Sowndarya, who showed us around her village with an incredible amount of energy, passion and knowledge. Her English was amazing, and her smile was radiant. She was in the equivalent of year 12 in India, and yet she still took the time out of her busy day to show us around even though she had an exam the following day. She has dreams of going into journalism and one day moving to another country. She looked after her neighbour's child, who is in year 3, as if she was her own sister. She was such a huge role model for the girls in the village.
There is hope that the education she is so keenly undertaking is going to open so many doors for her in the future and lead to so many more opportunities for her to work in a formal sector job. This will then hopefully lead to her being able to support herself more fully than was the case for her mother.
Education has the potential to empower women allowing them greater freedom and agency. It leads to greater employment opportunities, better wages and a more secure future. Seeing the difference education makes for even one individual makes me even more inspired to teach and perhaps even teach internationally in countries such as India.