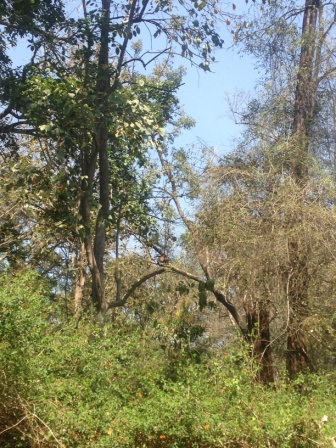 By Tessa Harris – Bachelor of Science, Bachelor of Arts
Today's breakfast was filled with excitement and anticipation for the day ahead at the Nagarahole Tiger Reserve. Named after the tributary stream, 'Nagarahole', the national park covers over 642km2 and crosses regions in the Kodagu and Mysore district. In the 19th century, the region was a timber plantation, but in 1975 was declared a national park.
After a three-hour bus drive we arrived with and within two minutes, spied a small group of Spotted Deer. We travelled further into the park arriving at the rangers' houses and offices. In a mad rush, we were immediately whisked back onto the bus as there had been a sighting of two leopards nearby. During the current mating season, males and females hunt alone but in proximity to one another. In two separate trees, one female leopard and one male were lying down on long horizontal branches observing us as we watched them, cameras in hand.
Back at the park offices, Mr Bellippa gave us a presentation on the threats and management techniques of Nagarahole Tiger Reserve. Three of the main problems are: fires, human-animal conflict and the tribal population. Being one of the driest regions in the country major fires occur every 45 years causing significant and sometimes permanent damage. Fires usually occur between March and April and the park employs 280 staff to manage fire watchtowers. There are also 600 field staff with radios who can raise a fire alert within an hour so it can be contained. Fire lines are also prominent in the park.
Human-animal conflict is being quite well managed in Nagarahole. There are 130 villages bordering the park and while elephants in particular cause significant damage to coffee plantations, there are a number of management techniques working to ameliorate the problem. Education and employment strategies amongst the local villagers help to protect the wildlife. Other strategies such as elephant trenches and new railway fences have been built in an effort to keep the elephants from wandering in to local farms. Many of us thought poaching would be one of the main difficulties rangers face, but since 2012, there have been zero accounts of poaching in the area. This has been maintained through effective patrolling on foot and in vehicles combined with the threat of intruders being shot on the spot!
The issue of tribal villages located inside the park's boundary is very sensitive. The government has introduced a system of voluntary tribal relocation and rehabilitation in which families are given two options. Families who opt for voluntary relocation are offered either a cash sum or three acres of land with a monthly allowance where families fall below the official poverty line. Sometimes the choice to move is not voluntary. In recent times 1200 families that still live in the park are facing increased pressure to accept the relocation packages.
Over the day we saw all kinds of animals – elephant families, bison, wild dogs, monkeys and different species of deer.
To top off a wonderful day spent in Nagarahole Reserve, our bus journey back to Madikeri took a surprising turn when the gear box decided to give way. Taking it all in our stride we found a local mechanic and stopped for some chai on the side of the road anxiously awaiting the verdict. Within 30 minutes we were back on the bus and travelling up the winding roads surrounded by beautiful vistas of Madikeri.