By Sam Lehmann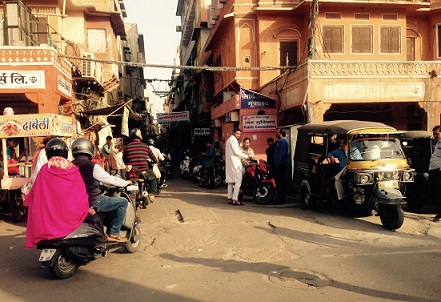 The most common form of vehicular transport in Mumbai is the scooter. The number of two-wheelers resembles a swarm of bees. The noise these vehicles generate is minimal, though horns are perhaps the most common sound you hear in India. In addition to scooters, auto-rickshaws, cars, bicycles, animals, buses and trains are common modes of transport. Which mode of transport a person uses is, to a large extent, determined by their economic capacity.
Scooters are the most affordable of any motorised private vehicle available in Mumbai. Purchasing a scooter will set the buyer back anywhere upward of ₹40,000 (Indian Rupees) or about $800 Australian dollars – a new 'TVS Scooty Pep Plus' sells for slightly more than ₹40,000. The TVS is specifically marketed to the needs of the average budget conscious Mumbai resident. It is low powered but fuel efficient. The rider will be able to ride 300 or so kilometres on a single 5 litre tank of fuel. And, with fuel costing roughly ₹80 ($1.50) per litre, ongoing costs are minimal. However, due to the relative affordability of scooters such as the TVS, the number of scooters in Mumbai is becoming problematic.
Between 2006 and 2016 the number of scooters on Mumbai roads grew from 790,000 to 1.6 million. This is a sign of increased wealth. During the same period, the Maharashtra state government built only 2000km of new roads, in a city spanning more than 600 square kilometres. The growing number of scooters on Mumbai's roads, congestion and pollution are all troubling issues. How will Mumbai, and India more generally, cope with the inevitable growth of two-wheeled motorised transport that comes with economic growth?
In the recent national budget, the Indian finance minister Arun Jaitley outlined the central government's plan to spend more than ₹50 lakh crore ($90 billion) on transport infrastructure. The allocation of such a massive amount of money will make inroads into the growing transport problem. Of this $90 billion, a large proportion is expected to be spent developing transport infrastructure in and around "areas of economic importance" ( 2018 Budget, page 4). This bodes well for Mumbai so long as the planned funding is rationally spent.
The 21st century will reveal many development challenges for the people of Mumbai. The need for equitable modes of transport is only one of these. It is crucial that viable transport systems are developed to cope with an already massive, but growing, population. Though scooters may well be a feasible and affordable mode of transport today, the presence of an additional 1.6 million scooters in Mumbai would create havoc in an already stressed transport system.