By Marie Harrowell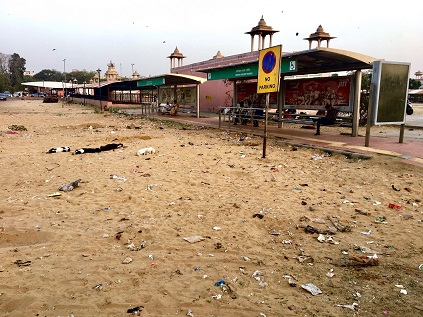 Travelling in India you are inundated with the unfamiliar and the unexplained. Surprising sights quickly become the norm as you adapt to new ways of doing business and getting around. So why is it that I cannot keep from being shocked by the waste left lying in almost any piece of open ground? Particularly in rural Rajasthan, it is impossible to miss the large amounts of waste which litter the side of the roads and streets. Plastic items, food waste, scraps of metal and chai tea cups are some of the common items which are seen on the road. Ideas and attitudes towards public space and waste in India have captured my interest. Why is it that there seems to be such a difference in the social attitude to waste and its disposal between India and Australia?
The twin absences of education and law enforcement certainty play a role. According to a number of studies of rural areas in Karnataka and Chennai, environmental awareness is low among the residents and education opportunities in environmental sustainability are rare. It is also common for the local rural residents to leave waste in public areas knowing there are no penalties or enforcement of waste management policies.
Alongside the lack of awareness and enforcement, there is an interesting cultural twist: dumped waste can be viewed as a religious offering. It appears that rubbish on the sides of roads is often thought of as an offering to the cows that roam freely around the streets, towns and villages. The majority of the population in India is Hindu and consider cows to be holy. The discarded waste is regarded as a food offering for the animals. This belief system turns waste left in public into an act of communal reverence.
In principal, the idea of providing the cows with food scraps might once have worked well as a simple form of recycling. The problem now is the increasing amount of plastic in discarded waste. If eaten, plastic poses considerable risk for the cows, either killing them or causing their milk to become toxic. The rapid increase in population has also meant that there are much larger proportions of this trash, which has meant that there is excess waste not even touched by the cows.
Are our Australian attitudes to waste really that much more evolved? We certainly are wealthy enough to have garbage collected and transported to large dumps. Out of site out of mind, we probably think as little of what happens to our waste once we have thrown it into a bin as does the Indian villager. I see waste disposal as a critical issue for a country such as India. As this waste builds up it can cause environmental degradation and contamination of essential natural resources so essential to human well-being.