By Matt Bailey
Bachelor of Science and Bachelor of Commerce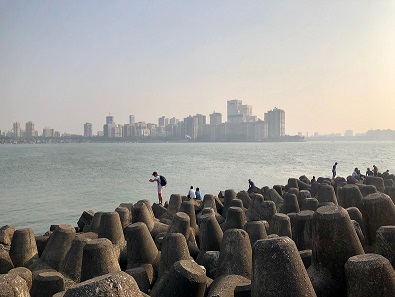 Among the chaos of Mumbai, spatial constraints have led to wildly creative ways of people using space. To me, nothing seems fixed, the wonderfully disorderly city feels like an evolving entity. The dynamic megacity regularly endures monsoonal flooding. Vast informal squatter settlements are swamped, yet defiantly recover time and time again. However, with climate change and mean sea level rise, storm surges, cyclonic and flooding events will increase in both intensity and frequency. I wonder how resilient Mumbai will be in the next few decades.
Originally a cluster of islands, a large portion of Mumbai is now situated on low-lying, flood-prone reclaimed land. Compounding influences of rising sea levels and increased rainfall will cause dramatically increased flooding, infrastructure damage, threaten water security, compromise sanitation, pose risks to health and introduce new conflicts over land. Over the course of the century, sea-level rise will place at least half of Mumbai's population (roughly 10 million people) at clear threat.
Particularly at risk are those living in informal squatter settlements situated on mud flats and estuaries. These communities are among the most densely populated areas in the world and lack any sort of formal stormwater system. Even in the areas which have waterways, I notice they contain large amounts of plastic rubbish and debris which would no doubt cause clogging during the floods. Squatter residents will be the first people to be impacted. I'm not optimistic about how resilient these settlements will be to future changes in sea level and flooding intensity, compounding on existing coastal instability.
I have found several references to Mumbai's flood and coastal risk management strategies, but these seem inadequate given the size of the problem. In the picture above is the tetrapod seawall we visited along the waterfront of Marine Drive in Mumbai. Prior to its urban development, the coastlines of Mumbai would have been protected from tides by mangroves. In their absence, a seawall is effective – excellent for dissipating wave energy at current sea levels – but a 'band aid' solution nonetheless. There is no sign Mumbai will reduce or slow further development on its unstable coastline. Planned encroachment into mudflats and mangroves compromises these natural drainages and flood controlling mechanisms.
As India's economic powerhouse, the implications of Mumbai's coastal exposure are significant. Vulnerability is a measure of not only exposure to the risk but the gravity of consequences for the densely populated megacity. This bustling city is ever adapting, but as of now it lacks the planning, investment and political will to safeguard its future. Mumbai, it seems, reflects Rajendra Pachauri, Chairman of the Intergovernmental Panel on Climate Change, opinion that "On a scale of 0 to 10, India scores a poor 0.5 in preparedness for the effects of climate change that could include severe water scarcity, floods, drought and mass migration".