By Raiya Courtier-Sadhu
Bachelor of Liberal Arts and Science majoring in Socio-Legal Studies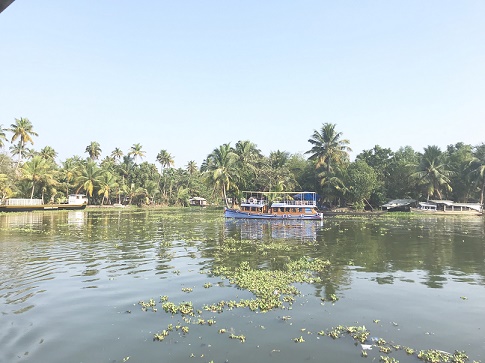 Photo: houseboat on Vembanad Lake
After being in any country for just over one month you would expect be accustomed to the contrasting surroundings. Travelling through four states in India; Gujarat, Maharashtra, Kerala and Tamil Nadu, I have found India to be a very diverse nation with differing laws and regulations, landscapes, religious customs, languages, and levels of prosperity and need. India's constant ability to evolve from state to state is unusual for western visitors. Walking through urban streets and rural towns, I am approached by locals asking me for a photo, children pulling my arm wanting me to meet their family, or simply strangers waving with excitement. Despite being half Indian, India is far from my reality and the reactions I've received from locals has continuously reminded me that I am one tourist among thousands.
India is categorised as a 'developing' nation and is often viewed through a 'third world' lens by westerners. This includes poverty. Slums and famine are what come to mind when many western tourists think of India. Before I arrived in India, people warned me about the shock I might experience on account of the contrast between the majority of Indian's living standards and my own. For some this sense of shock is scary and saddening, possibly eye opening, and for some it even provokes gratitude for their own daily life. Despite one's reaction to this sense of shock, I believe it is a key motivation for westerners wanting to travel to India.
This week our studies took us to Alleppey. Alleppey is a tourism hub in South India, known for the houseboats that travel and dock through the beautiful backwater canals and Vembanad Lake. We spent half a day on a tourist houseboat and visited a local NGO that outlined the social-ecological degradation occurring in various ecosystems within the lake. The NGO workers talked about how increasing numbers of houseboats taking tourists onto the lake impacts the environment. We learned about increasing pollution and rubbish that houseboats seep into the lake and canal, threatening the existing biodiversity and fish populations. In Alleppey, 1.5 million people are dependent on the lake, but the excessive use of houseboats for tourism and economic growth are leading to a 'tragedy of the commons', ruining the space for all 1.5 million dependents.
This lead me to question the role of tourism in India, and whether tourism industries like the Alleppey houseboats prioritise economic growth over sustainability. Tourism in India contributes less than 10% of GDP with the majority of activity driven by domestic tourism. Environmental sustainability needs to be more of a focus if tourism is to continue to contribute to economic growth.