By Lachlan Mitchell
Bachelor of Science & Bachelor of Arts, majoring in Environmental Studies, Environmental and resource economics, & Geography.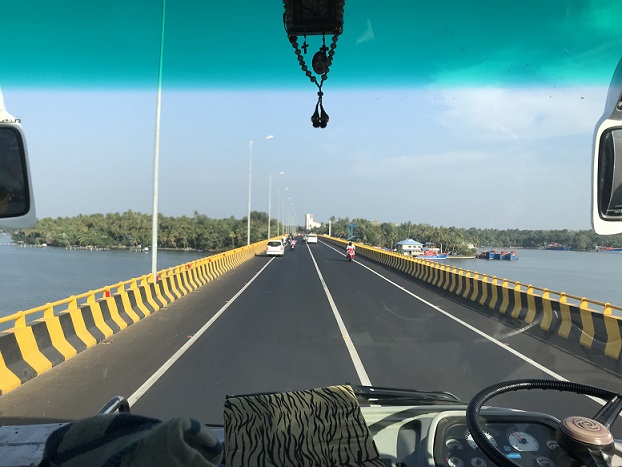 We have spent a lot of time on the road in India. In our 10 days in Mumbai, I spent close to 12 hours in coaches, autorickshaws and Ubers and in our 10 days in Kerala, we have spent close to 60 hours in our (thankfully) air-conditioned coach, called 'Prakash'. These adventures have not only brought with them many memories of sensational road-side chai and banana fry but have also provoked my thoughts about priorities of development in India, especially in regard to road infrastructure.
The city of Mumbai appears to be perennially gripped by a motorway-building initiative. While we bumped along pothole-ridden roads alongside informal settlements in a Suzuki Swift Uber, elevated, multi-lane highways were towering half-built above us. The road infrastructure designed to rid the city of its chaotic traffic jams was finally being built. Yet contrasting priorities of development were evident. From our coach driving along the top of one of these motorways, you could see dinner being cooked through the glassless windows of fourth floor slum residents.
From an Australian perspective, it is always encouraging to see infrastructure development, however I can't help but feel torn seeing it in Mumbai. These new motorways will play some role in easing Mumbai's congestion challenges. I question, however, whether this investment, comes at the expense of essential quality of life changing development needed in many of Mumbai's slums.
In Kerala, I have seen a different side to the Indian road network. Our first few days in Kerala involved a mammoth 9-hour bus ride covering just 200km. At first, I couldn't understand why there were no motorways connecting Khozikode and Kochi; we had travelled along the main roads of towns the entire route and had been slowed by Saturday afternoon traffic and festivals. However, after reaching the newly opened dual-carriageway leading to Trivandrum over a week later, I started to understand two things: firstly that Keralans' livelihoods are based in their local villages and there is little need to commute large distances regularly; and secondly that the Keralan government was prioritising more important roadworks.
In last year's monsoon, Kerala experienced the worst flooding in 94 years. Many of the roads on which we travelled were completely destroyed just a few months ago but were already under repair or repaired by the time of our visit. The roadside areas were teeming with workers reinforcing the mountains and re-tarring the road. In our time in Munnar, we arrived at our hotel on a dirt road and two days later, when leaving, the road was freshly tarred. The efficiency of these road repairs is far from what I would have expected.
Some of the parting words I received when leaving TISS in Mumbai were "Enjoy Kerala! Kerala is the best part of India, but it's not India." Having travelled by road both here in Kerala and back in Mumbai, I can start to understand what was meant by that. Kerala seems to have kept road development priorities in check with the demands and challenges faced by the broader community. Repairing the roads in Kerala is essential for Keralans' livelihoods and tourism alike. Mumbai, on the other hand, continues to perplex me and I hope to continue to learn more about underlying factors influencing development priorities in that city. The Keralan difference is refreshing and encouraging, and gives me hope for what is to come for India in the decades ahead.