By Rory Green
Bachelor of Engineering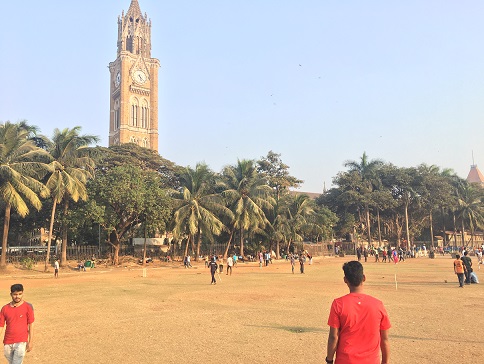 The purity of the sight of bat on ball contrasts with the rundown surrounds. Cricket is commonly played on the dusty fields of urban shanty towns and poor rural villages, but not as often as I'd imagined. Cricket is largely a rich man's game in India. This reflects broader social inequalities. The majority are denied the opportunities, education and social connections enjoyed by those who worship at temple of cricket that is Maidan Oval in the heart of Mumbai. At the national level only four members of the Indian cricket team have come from the lowest caste, the Dalits, in the team's 87-year history.
Patterns of power and privilege are evident in the glitz, glamour and opportunities of the wealthy in Mumbai. Much of this is reminiscent of the technicolour antics of the Indian Premier League (IPL). Like the T20 format, the city has burst onto the global stage in the last 20 years, exploding as market liberalisation allows the movement of businesses and talent into the city. This accentuates the power of the elite ruling class, whether it be Mukesh Ambani, Shar Rukh Kahn or Virat Kohli. But just as the IPL is replete with tales of corruption and match fixing, there are weaknesses in the cityscape of Mumbai.
Half the city's population is confined to informal settlements. Reservations, like South African cricket's quota system are not able to fully overcome the inequalities. The contrast between the elite and the majority are on display in M Ward East, home to the largest rubbish tip in Asia – at least until the English team visit India on tour.
In Kerala, far away from the technicolour antics of Mumbai, my legendary fellow field-trip members allowed me to watch the England Lions play India A, at a nearby field. This proper game of long form cricket reflects Kerala's efforts to implement proper, long term development strategies. Delivering strong technical skills, fostering community participation and offering opportunities for employment are the key tenets of building both a successful cricket team and an Indian state. These policies are reflected in the Kerala state government's additions to the National rural Employment Guarantee Scheme which offers extra days of work to the unemployed for recovery work after flooding. Impressive community led education and environmental programs create a nurturing environment, acting as high-performance academies for the next generation. These programs are just some examples of those that make Kerala, at least in our limited experience, appear more socially equitable compared to Mumbai.
Development and equality in India, varies as widely as cricket pitches across the globe. Unfortunately, in a lesson learnt from cricket, galvanising and growing India will require strong, fair guidance, but Indian politics is lacking the galvanising leadership of MS Dhoni or Virat Kohli, who have been able to pull the whole nation together.